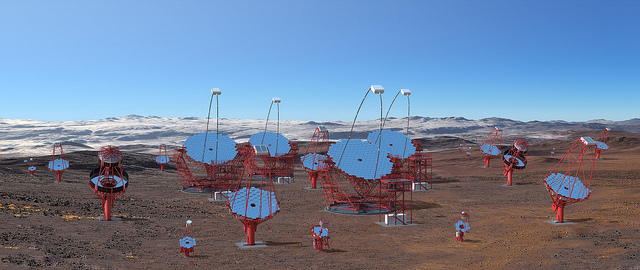 Final Agreements Signed for CTA's Southern Hemisphere Site in Chile.
Santiago, Chile – On 19 December 2018, the Cherenkov Telescope Array Observatory (CTAO) and the European Southern Observatory (ESO) signed the final agreements needed for CTA's southern hemisphere array to be hosted near ESO's Paranal Observatory in Chile.
A total of three agreements were signed over the course of the week: between the Chilean government and ESO, between ESO and CTAO, and between the Chilean National Commission for Science and Technology (CONICYT) and CTAO. With these three agreements in place, the CTAO will be able to begin construction on the southern site. The hosting agreement with the Instituto de Astrofísica de Canarias (IAC) is already in place to host CTA's northern hemisphere array at the Observatorio del Roque de los Muchachos in La Palma, Spain. Construction on both the northern and southern arrays is expected to begin in 2020.
CTA will be the next generation ground-based instrument in the detection of gamma rays, which are very high-energy electromagnetic radiation emitted by the hottest and most powerful objects in the Universe — such as supermassive black holes, supernovae and possibly remnants of the Big Bang. To provide access to the whole sky, the CTA Observatory will have two sites, with 19 telescopes in the northern hemisphere and 99 in the southern hemisphere.
Scientists from the Nicolaus Copernicus Astronomical Center take an active part in all activities of CTA Consortium responsible for the construction of the observatory.
Original press release. Image credit: Gabriel Pérez Diaz, IAC.